One of my aunts was known in the family as a jazz woman; she was very fetish.
That's what I mean not jazz azin music.
My aunt would not go to the toilet without consulting a medium. She believed so much in 'looking into the future,' we dubbed her the family's 'seer.'
Now, this aunty was also a white garment church person by the way who had been to Mecca and yes, she was married to a cultist. So you see, my aunty was one woman you didn't joke with. She was everywhere!
My aunty had a son, a very likeable cousin of mine who was always jovial and full of life. Let's for the sake of the story call him Paul.
I loved Paul.
He was always helpful, he was always asking after everyone in the family. Paul was the one you could count on to give you a glass of water if you visited my aunt's home. He laughed out loud and he was the one who everyone wanted to be friends with.
Now, Paul also happened to be my aunt's favourite child; Aunty had seven children but Paul was the light of her life. My aunty doted on him so much so that whenever he wanted to travel out of her domain, she would insist on bathing him with all kinds of concoctions, make him drink plenty and inscribe all kinds of things on his body…for protection.
I didn't know, maybe someone told aunty Paul would die young because Paul died young.
He first died at the age of 24.
 That day, he was said to have fallen off an okada when a commercial bus hit the bike he was on from behind; Paul fell off, hit his head on a culvert and was left for dead, the rider rode off in panic. Bus driver and passengers all ja pa.
Good Samaritans, who knew Paul because like I said, everybody knew Paul in their area; they quickly took him to the hospital near his parents' home before going to tell his parents what had happened.
The hospital pronounced him dead but my aunty would have none of that. She insisted Paul was only sleeping and asked him to be brought home.
When I heard the news, I ran as fast as my legs could take me to Paul's house. I saw people in their compound and many were crying. When I got to the sitting room, I found Paul had been laid out, wrapped in a white shroud but his face uncovered…he looked like he was just sleeping even though he still had blood on his head and lips.
My aunty was sitting there in the living room even though she wasn't meant to be there because according to our custom, a mother or father must not behold their dead child's body. But aunty sat there and kept telling everyone, "Paul is sleeping, Paul is not dead. Paul will wake up, the accident made him sleep deep. He will wake up at night."
Most of us just thought she was grieving. Many women tried to move my aunty from the sitting room but she refused and when they wanted to cover Paul's face, she refused, she said only the dead are so covered and Paul isn't dead!
I kid you not…Paul did not 'die!'
I don't know what was done, I have no idea how it happened, I know that the following day, when we all assembled at my aunt's house, to see if we could take Paul's body for burial, he was up, sitting in their parlour and staring blankly at everyone!
Yes he had a laceration on his head, arms, lips, and all the places he bruised when he fell off the okada but he was alive!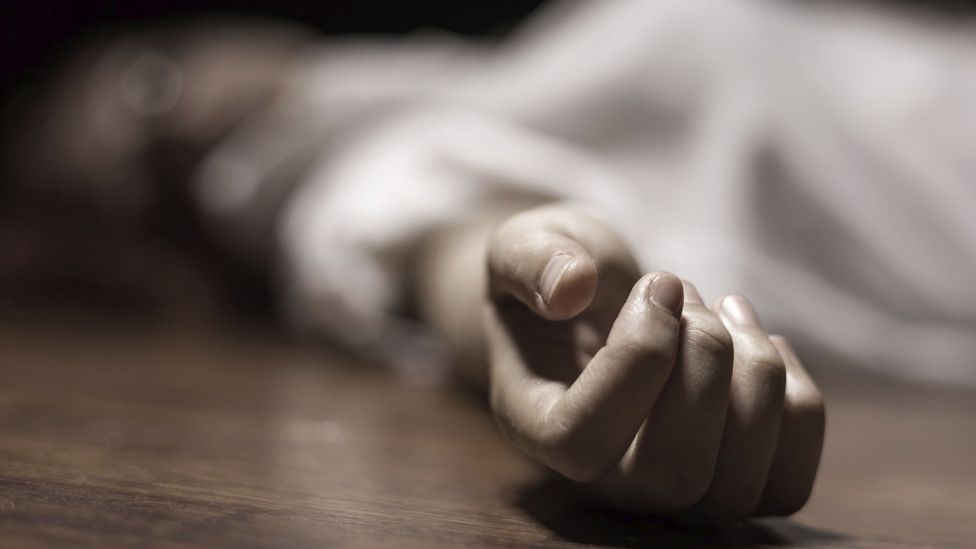 He wasn't talking…expectedly, I suppose, coming out from a coma…which I imagined must have been what happened to him…but he was alive!
For weeks, after that, Paul lived like a shell of his old self. He wasn't talking much beyond "yes, no… " and maybe a smile but he was empty!
He slept and ate but he was not alive…in the sense that he wasn't doing the normal things he did. I never, for once in all that time saw him eat or drink…maybe he did but I never witnessed any.
Now, around that time there were rumours my aunty used juju to bring him back to life! Which is why Paul was just looking empty even though he could sit and stand but…
There were people who swore the real Paul was dead but we were only seeing the body, not the soul and I tend to believe it!
Paul would not go out, could not have meaningful conversations with anyone. He would be sitting for hours, staring blankly ahead and would smile once in a while, as if to let you know he was human…beyond that, he was just empty!
My aunty of course was also a shadow of her old self!
She lost her zest for life, she lost her will to live seeing her son was just a zombie of sort. Aunty simply began to wither…
Then one day, almost two years after Paul's so called 'death,' he died again. We were simply told he died in his sleep. I don't believe that either. Yes, Paul was finally dead but this time, something was done to take his life and I heard rumours supporting this theory.
My aunty must have seen her juju didn't work in bringing back someone from the dead, she had a zombie on her hands and because she couldn't do anything about to, decided to release Paul finally to death…she paid with her life. Aunty died, the noon of the day Paul was said to have died.
Few people were surprised, both of them were buried side by side.
To date, we don't talk about my aunty and Paul. We just whisper their names…something bad happened with those two, it was no ordinary death, that's my version and I'm sticking to it.
(Series written an edited by Peju Akande and based on true stories)