My brother, Benson, was the last born of our father.
Our father had several women, many of whom just gave him babies then left, though three stayed with him but they soon left one after another. In all, my father had 14 children. Some of us lived with him, like myself and Benson and 7 others; all from different women.
I for instance, I am the only child my mother had for my dad before she left him and me then remarried and had other kids. I still hate her to date for not taking me along with her.
Anyway, Benson's mother gave birth to him and dumped him in my father's house when she discovered he was an unusual child.
I mean, he was just kind of slow. Like it took him time to walk, to talk…I guess that is the reason his mother came to dump him with Baba when he turned three. She said that she was tired of taking care of him; having given him agbo over the years and no improvement and taken him to several hospitals with no concrete diagnosis. She said they kept telling her he would improve as he got older…
He did…a bit.
Benson came into our household at Ebute metta where the women mostly took care of their own children. Not a strange thing, considering we had an absentee father.
Benson was , or most of the time neglected; so I took it upon myself to care for him; he and I were alike; both of us were the only children our mothers bore Baba; both of us were abandoned to our father's care by our mothers.
I was his little mother; I would bathe him and feed him; I cared for him as best as I could, given the little at my disposal. I got some help from Baba on the days I found him at home. Whenever Benson needed help, I would tell Baba, "He needs, clothes, he needs slippers, he needs food, he needs to start school…" and sometimes, Baba would oblige me. The man tried to provide…albeit secretly because he didn't want the other wives to know he was giving Benson and I anything.
How old was I then?
I was 14 years old and in JSS2.
Ok, let me be fair here, on a few occasions, one or two of the mothers would volunteer to care for Benson. For instance, before our father allowed us to enroll him in school, he was almost 7 years old. Already too old for even primary 1. This boy knew nothing. Not A-B-C, not 1-2-3. Who would teach him? I tried but like I told you he was kind of slow. So it was one of the mothers, we called her Alhaja, she was the one who insisted Baba took Benson to a government school to enroll him there. That's how Benson began schooling.
My father was summoned to Benson's school several times; mostly because Benson wasn't learning much. He managed to finish primary school, we all knew there wasn't going to be any secondary school education for Benson. He was almost 15years old by the time he finished primary school. He repeated twice, I think and often skipped school because, the other children made fun of him and called him names, so he would lie to us that he went to school but whenever we found out he had been skipping classes, my father would force him back. Baba said he just wanted Benson to complete primary school; we all knew there would be no secondary school for him.
So when Benson finally finished with primary school, Baba enrolled him at a mechanic workshop to apprentice…Benson learned nothing. He was there for three full years going on errands for the rest of the people at that mechanic workshop. I think he liked running the errands better than paying attention to how a car is fixed. I would always find him carrying several bowls going to buy food or water or something for his bosses and some of the boys in that mechanic place.
One day, I was running an errand for a customer of mine…I became a fashion designer when it was impossible to go to university. The customer wanted a specific kind of fabric and asked me to get it for her, so I went to the market.
Not too far from the market, I saw a huge crowd…it was either area boys fighting or they had caught a thief.
Anyway, I saw people gathered around someone they kept calling "ole, ole."
I told myself, "Aha, I knew they have caught a thief."
There was a thick crowd of people around the so called thief. People were screaming, there were several area boys whipping people with koboko, I don't even know why they were doing that. Some boys were beating someone on the ground and the person was screaming and howling…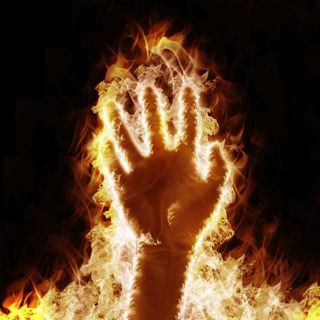 It was a crazy crowd at that market that day.
I tried to see the thief but I couldn't, there were too many people.
I saw blood, I heard so many people talking and pointing and saying, "He stole meat, he stole garri, he stole money…"
"Put tyre on his neck,
"who has a tyre?"
"pour petrol,"
" bring it, bring petrol…"
On a normal day, when I see such a blood thirsty crowd, I would cross to the other side of the road and continue my walk. That day something drew me to see the face of the so called thief.
So I fought my way to the front to see the thief…
You guessed right, it was Benson
His face was swollen and bleeding all over, his fingers and legs had severe cuts and there was blood and dust all over him.
No, I wanted to shout, "This is a mistake, this boy is not a thief."
May be I even shouted, I don't know.
I wanted to go and cover him with my body, I wanted to take the stick from one of the men hitting him and break it and smash it on that man's head…instead I just stood there looking at Benson as his screams began to dim. He was crawling on the ground as they kept hitting him…there was more blood and yet they didn't stop hitting him with different kinds of stick and belt.
What could he have stolen to be so beaten? Did he steal the country? Is Nigerian stolen? Who are these monsters?
They didn't stop!
People were pushing me, pulling me to get a better view, asking for more beating…
Then Benson turned…in the midst of those who surrounded him…I know that through that blood soaked eyes and face, he saw me. He looked at me and I knew he didn't steal anything. He couldn't have. He was dense but he was no thief.
I must have been crying.
There was no way I could have stopped these people from doing what they were doing to him.
As I was being shoved aside, I saw Benson drop his head, someone had poured petrol on him… I didn't even know it was petrol until I saw him on fire…
I was crying but even I couldn't hear my own cries above all the noise and pushing and shoveling around me.
I know Benson saw me.
I know he closed his eyes as if to say; "I can go and rest now but sister, I did not steal."
This happened 7 years ago. To date, I still smell his burning flesh. I still see his eyes and I know I should have done more than scream, I should have faced the area boys, I should have at least made an attempt to stop them, make people hear me, tell them he was my brother and he was not a thief, he was only slow.
Stories written and edited by Peju Akande and based on true stories)