We shared a common bathroom at the back of the house we all lived in, that is how come he was able to do what he did to me.
I came from Calabar to live with my aunty who lived in the same house with Uncle James, the man that has now been arrested by the police.
When I first arrived, my aunty told my mother she would send me to school but I knew I didn't want to go to school, I just wanted to learn how to trade.
I was almost 15 years old then and I didn't want to start Jss1 at that age so I told my aunty I would like to learn to cook like her, so that I could also be selling food.
My aunty cooks and sells food in a compound that has four schools in it. So we usually had to wake up early to cook our food in the front of the compound because the backyard is for the pit toilet and bathroom and people spread their clothes there; so because of that, we cook in front of the compound.
This is how it happened that he took my naked photos.
Me and my aunty usually finished selling food by say 2pm, that is when we pack our coolers, pots and the keke we always use would come help us move our things to the house.
I would go with the keke back to the house while my aunty would drop at the market. I would go home to wash the pots and start preparing for the next day while my aunty would go to the market either to buy more meat or fish or even pepper. Though we have a small freezer in the room where we sleep, we still need to replenish every day because, you know, light isn't constant and my aunty doesn't have money for gen.
I share the same room with my aunty and to be honest, the woman has been good to me. She treats me like her own child though she has never married and doesn't have any child of her own.
I would usually go to the house and start preparing for the following day, like I would start cooking beans that evening before my aunty comes back from the market…beans takes time to get done and cooking it in the morning is out of the question because we would be late for school…we get to the school at 6.30am everyday because many students come to eat there before classes start.
Anyway, I was cooking the beans one day and had finished washing the utensils when I decided to take a bath. Before then, at the beginning, when I first came to live with my aunty, I usually took my bath in the bathroom….but you know, we have to queue and some people take long in the bathroom.
But after a while, the bathroom began to irritate me.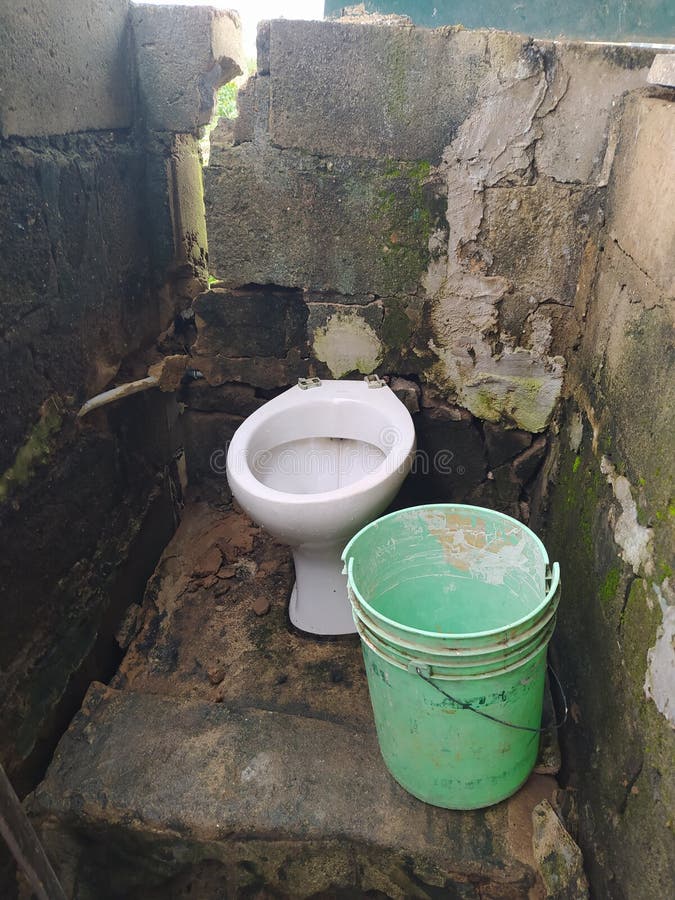 As in the slimy walls, the smell…so one day, around maybe 5 in the evening or so because I knew not many people would be around, I wasn't particularly cautious…you know, the bathroom itself is small, there is slime and green moss on the walls and floor, in fact, many of the young girls living in the house, we usually took our baths outside…it makes your skin crawl just seeing how slimy the bathroom is…the door is wooden but it is water soaked, has chopped off on top and below…you know…and doesn't even lock well. Anyway, I decided to take my bath outside because not many people had come back…only children and they were all playing in front of the house.
So I was careless but, I didn't just want to bathe in the bathroom because though it hadn't gone dark, I could see all the slime and green stuff attached to the walls and the floor.
I didn't know Uncle James was doing a video of me taking my bath that day. I finished and covered myself and went into our room.
Ok, so you see before now, this so called Uncle James had been "toasting" me one kind and I've also seen him toasting other girls in the compound too. He is a married man o, in fact, his wife just had a baby girl. They live upstairs, in one room. Whenever he came to me with that his stinking mouth, I would tell him that I would report him to my aunty. Quick quick he would say he was just playing with me.
That was how one day, he showed me one of the videos!
I was shocked, he filmed it from his bedroom window. That means, the other girls that had been bathing outside too must have been visible to him.
I begged him to please delete the videos but he said I had to pay for it.
I told him I didn't have money, then he said he would show the rest of the boys in the house and those on our street!
I began to beg him and afterwards, promised to get him something. That was the second time I would steal from my aunty. I had stolen before to buy bra and lipstick…
I stole, N3,500 from my aunty and gave to him and he told me he would delete the video. That was the period I stopped bathing outside, no matter how slimy the bathroom was, I never bathed outside and I warned the other girls not to because someone may be videoing them, they just laughed and told me the person should continue.
Then, like two weeks after I gave him N3,500, Uncle James came and said he had so many photos of me naked that if I did not agree to have sex with him, he would show everybody!
He showed me some of those photos, I swear, I was filled with shame!
I promised to give him more money but he said he wanted to have sex with me, that I should come and meet him somewhere…
I was sleepless for three days because, I didn't know what to do. So I called one of the girls that was still taking her bath outside, her name is Remi, I asked her what she would do if someone had her nude photos and was threatening to expose her and wanted sex in return.
It was Remi who taught me to trick him. She said I should promise to have sex with him and ask him to give me the address.
The fool did.
So Remi and myself told my aunty but Remi said we had to report him to the police but my aunty was reluctant, she said police would start asking us for money and she didn't have any money to give the police…but Remi has a boyfriend who knows people. It was the boyfriend who helped us talk to police and they set Uncle James up. They told me to arrange to meet him at the guest house he asked me to come.
I played along and they arrested him when he opened the door to let me in.
They found so many photos of naked women in his phone, even Remi's own too. They arrested him for blackmail and cyberstalking and they said he was threatening a minor.
Yes, I am the minor, I just turned 17 four months ago and he says he is 43 years old.
(Series written and edited by Peju Akande and based on true stories)