You know, since the incident that happened to me 6 years ago…yes, it's been that long, it didn't happen yesterday…though it often feels like yesterday.  
Since then, people have been telling me to come out and tell my own part of the story. They said my husband had told people the reason we separated was because I was moaning while being raped!
He is sick, the so called husband.
He is sick in the head and Allah will deal with him in a way that he will never forget!
Yes, I heard that's what he has been telling people. This is a man I had two children for, at least for the sake of his own children, he should have kept his mouth shut but no, he must tell people he is a holy man, a man looking for an excuse for divorce.
So at first I was quite reluctant because, I mean, it was a traumatic experience for me.
It is painful, it is shameful, it still fills me with dread till today! Till this very moment I'm talking to you!
Ok, see what happened.
It is true we had been having theses robberies in the community where we lived…in EjiGbo. That's where we lived.
Many times, the robbers would come in a truck, they would be like 30 or more. They would beat down gates, and doors and steal; we even heard they would eat in some people's houses, destroy what they couldn't carry away, like if you had a big tv, they would just smash it to pieces because they won't be able to carry it away and they raped women then…we would hear the women crying and the men begging them to spare their daughters…it really happened!
So we called police…for where? They only came when the robbers were gone and the robbers had better guns than the police!
That's how come some of the daddies and uncles in the community began to do vigilante to secure the community. They would take turns to watch the community and at that time, we the women slept with two eyes open.
My former husband was also among them.
But after sometime, the vigiantes relaxed because for more than 8 months or so, the robbers didn't come to our community. That's why many people began to refuse to show up for their turn. More so, we were each taxed with N1000 per house, every month to support the men doing the vigilante work but many houses stopped giving, many were not even able to pay up to N1000, they gave like N500…so this discouraged the ones that were actively doing the vigilante work. So many of them stopped showing up in the midnight to guard the community. People like my ex-husband too stopped because only a handful turned out for their turn.
Then a few months after, when there was no more vigilante patrolling, the robbers came in full force!
They came around 2.30am…usually, even on the days the vigilantes patrolled, they would have gone to their homes at that time. Anyway, the robbers came and raided our community for more than 2 hours!
That was the day I was attacked and molested!
They asked me for jewelry, I said, I didn't have and it is true I do not wear chain or earrings that are expensive, I only wear beads, these cheap ones.
They attacked me right in front of my husband. They tore off my clothes…you know my sister, when you want to sleep, you don't wear clothes that are thick…my husband later accused me of wearing flimsy clothes that day!
Anyway, I was raped!
I was raped by two of the boys that broke into our apartment.
I was in so much anguish, my mind kept telling me to refuse to look up at the boys as I was being raped, I shut my eyes and was praying for it to end…I was feeling so sad for myself, so pained I couldn't help myself, I was crying for help…that is what my husband called moaning.
Me moan?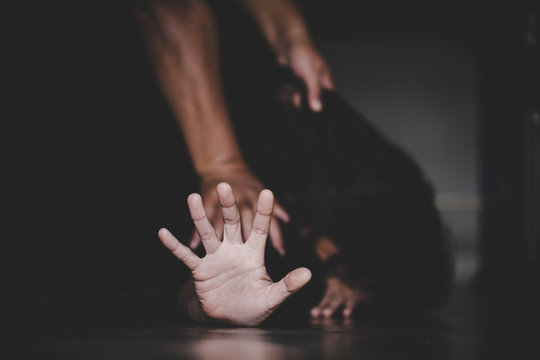 How could I have moaned? I was bleeding, yes, I was raped, there was blood!
Do you know fear? When you are confronted with a life and death situation and all you can think of is, who will take care of my children if they kill me here? I was groaning in pain for my children, for the loss of what I thought would be my own life…even for my husband because I thought they would kill him…we had lost two men to robbers before that day. So, I was not moaning, I was in pain, I was mourning so many losses!
After the incident, my husband came to me, helped me clean up and told me I should never tell anyone I was raped!
Maybe if I had told them at the police station that I was raped, he wouldn't have been spreading the story about me moaning while being raped because you see, it doesn't even make sense at all!
That day, I swear, I wanted to tell him we should go and show the police my torn clothes and even the semen left by the bastards but my husband said, don't mention it, it is a shameful thing, let's just report the things they stole from us…me sef, mumu, I agreed!
Since that day, he stopped touching me. See, even me, I didn't even want to be touched! I didn't want to have sex with him, with anyone forever and ever! So when he didn't touch me, like two months after the thing happened…I was happy because I couldn't bear being touched, even to date!
My mind was tortured, my body was used, I was going crazy because I couldn't share my pain…my husband refused to even discuss it. You know. When he accused me of enjoying it, I was speechless!
It's been 6 years but it still feels like it happened yesterday.
We are divorced, I have custody of my children and I hear he has remarried…I wish him luck!
I just want him to stop spreading lies about me. I did not enjoy being raped, only a sick woman would and I am not sick in the head, the only sickness I have is remembering, recalling what happened to me that night, knowing those boys are still walking free.
And by the way, I wasn't the only woman raped that night. Not that this makes it easier for me…no one is openly talking but I've heard one or two women say so and so was raped, that is why they left that area. So, what happened to me also happened to a few other woman, why do I have to suffer more, like I brought it on myself?
(Series written and edited by Peju Akande and based on true stories)