A few days ago, twitter lit up at the photos of lovely Princess Zahrah Bayero, the daughter of the Emir of Bichi who's engaged to be married to the President's son, Yusuf Buhari.
The dainty princess looked ravishing in her bridal shower gown. The white bridal gown showed off her lovely arms and shoulders. Her hair, makeup and gown speak volumes on exquisite and class… the girl is a joy to behold…
Since her photo was shared on Twitter, I mean the unbanned twitter, angry fingers have been asking why Hisbah, the board known for enforcing sharia in Kano has remained mum on a dress habit they had labelled "indecent."
My people have a pithy saying, "Small as the needle is, woe betide the chicken that swallows it!" Which is why I think Hisbah won't peck at this one; they saw her photo, clucked to themselves and continued pecking at other grains in the sand.
This is same Hisbah, that only recently banned the use of mannequins by tailors and clothes sellers as being sources of immorality among its people. You would want to ask, what did the mannequin do to be so banned? They are sources of temptation, they said.
Even ArewaTwitter hasn't found its tongue on Zahara's off shoulder gown but they were quick to ask for the head of Rahman Sadau's the Kannywood actress, when she shared a photo of herself wearing a backless dress, which they have termed indecent… the poor girl was even threatened with bodily harm by some righteous Islamists.
She had to apologize and pull down the 'indecent' photo.
Nigerian Tweeps are wondering aloud, why isn't Hisbah racing to the Emir's palace or Aso Rock for that matter, to ask that Zahrah be made to face the board?
My guess is, they are still admiring the gown, they are probably still awestruck by Zahrah's beauty. These can be the only reasons why Zahrah and her family and by extension, the President's family haven't been dragged to the Sharia court in Kano.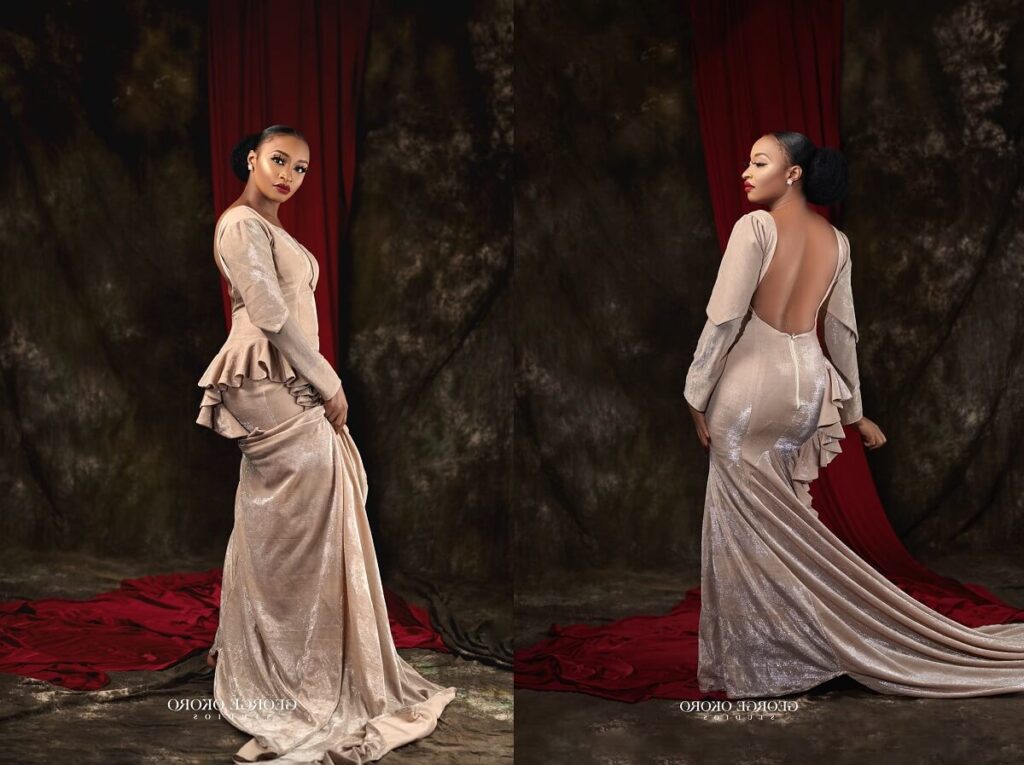 Some very bad people are saying it's because Hisbah laws are only for the poor, that the rich, the elite operate by another standard…I say, bad people will not stop talking. They even went as far as say that if Rahman Sadau was petitioned by a certain Mallam and the same to the then Inspector General of Police, ( who isn't a Sharia Police,) and he ordered the Kaduna state commissioner of Police, Umar Muri, to probe her, why is Zahrah exempted? Why hasn't she been dragged by the same set of people who claimed Rahman was indecent?
I may have an answer to that- these people, I mean those who drag dissents before the sharia court, are not on Twitter, they are part of the tweeps caught in the ban. Remember twitter has been banned in Nigeria?
Anyway, these are just sayings from disgruntled Nigerians who do not yet see the benefits of Hisbah to humanity. They don't know what good works Hisbah has been doing; arresting homosexuals, banning the use of mannequins by tailors and clothes merchants as a form of idolatry… and we all know idolatry is a sin before Allah!
Hisbah has been in hot pursuit against beer drinkers and sellers as they constitute an infraction against Islam. Soon, Kano will become the Holy city of Nigeria, something naysaysers will never see even if they were given binoculars.
Why waste time with them?
Let's focus on the upcoming wedding of the decade, heir apparent weds lovely princess, like Scar told Simba in Lion King, it's to die for! Twitter will really go crazy with photos of the event, if they are weeping over small bridal shower photos!
That said, we congratulate the President's son, Yusuf Buhari and Zahrah Bayero in advance and wish they a happy married life. Same joy I'm sure the Hisbah wishes the young couple.