The Kuje Prison break on Tuesday, 5th of July 2022 saw 879 prisoners escape, over 60 of whom are Boko haram terrorists; so far, according to reports, some 600 plus prisoners have been recaptured but none of the recaptured are Boko Haram terrorists housed at the medium security prison. Among the escapees, according to a report in Punch are, "Mustapha Umar, a man convicted and sentenced to life in prison for bombing Kaduna Office of Thisday newspapers; there's a Yasir Salihu aka Dan Birni an avowed Boko Haram member who confessed to killing Sheik Auwal Albani," there are several other names listed as being Boko Haram members. Names the government tell us have been sent to Interpol to help in recapturing.
This is where I smiled, the smile of the, "who do you think you're fooling?" smile.
They sent names of these people to Interpol!
These are people who can change their names and identities at will
These are people who have no families, loved ones or even villages you can begin to track them to and maybe recapture them.
These are people who can disappear in plain sight and you won't see them even with binoculars.
These are people who time and again have defied security forces and around Nigeria; they have a strategy that has consistently baffled our security agents.
These are faceless people who practically have no identities for security agents like the Interpol to use; fingerprints, facial recognition…
Spokesman for the Nigeria Correctional Service, Umar Abubakar in a Punch report said, "They are working on it ;( sending photos of escapees to Interpol) the ones they uploaded are not too clear to my liking and the management's liking. Hopefully, they should be through tonight."
So the Nigerian government thinks these terrorists will be idling away nearby waiting to be recaptured?
Whos' the government fooling? Well, maybe they aren't fooling anyone, they are just wondering how come these terrorists are always several steps ahead of them.
Wonder that engulfed them when same day it was reported that the Presidential convoy was attacked on its way to Daura!  (Isn't this like spitting in the face of our security system?) Same wonder as to how come the prison was compromised so easily; how come the CCTV didn't cover the perimeter fence; wonder, over how come the mountain of security agents; police, Airforce, Army, even the Customs…all within a few miles to the prison couldn't repel an attack that lasted for over two hours…didn't capture a single perpetrator!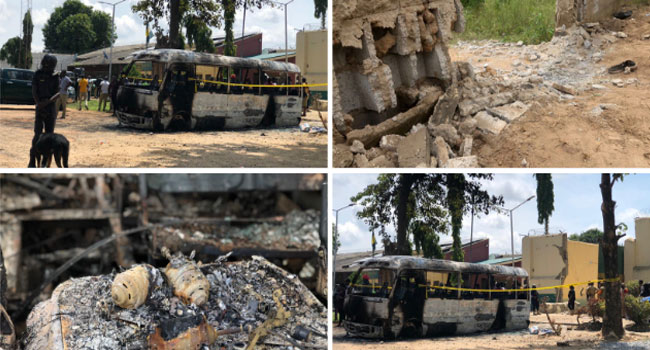 Baba Bubu must have wondered what he was still doing hanging around a house that is burning; I mean, Baba Bubu's Aso Rock villa is literally on fire considering Kuje prison is located at the seat of government; and yet; security chiefs have not been fired; the Minister of Interior is still speaking grammar, in short, no head has rolled! Instead, everyone is scratching their heads in amazement and muttering under their breaths, "ka wei, these terrorists people have sense sha. See as dem raid us and took their people. See as they blew out the prison wall, fa! See their weapons, banza! They tried sha!"
But here's the thing, prison breaks happen worldwide and so ours isn't an anomaly, what is, however, is our response before the breaks and after. Nobody is held accountable; nobody is distressed enough to think they may have failed its citizens. Nobody is worried that this means the already poor security situation is in shambles as we speak.
The train attack happened, fingers were pointed but no one got the boot; NDA (Nigerian Defence Academy) was attacked, fingers were pointed and everyone is still holding their positions; even s an aside, our CBN chief vied for the presidency…he hasn't been fired for his unconstitutional behavior neither has he punished…after all, he committed no offence.
Now some 60 terrorists have been further emboldened; add these to those who are waiting in the flanks to carry our more deadly acts, they have an assurance their people will break even the most fortified of prisons and release them if they were ever caught! And that's a big IF!
Now to the question, why jail terrorists in medium security prisons, isn't a maximum prison more like it?
But that's a silly question, if terrorists can break into the Nigerian Defence Academy without any casualty on their part, and military barracks causing the military to flee before them…what's a maximum prison to them…piece of cake, actually, it's Kuje!