When I read about the story of that small girl that was killed for ritual, I remember my own sister, she was young too and now is a mental case because of yahoo boy.
Greed has always been the reason people die or are scammed or get engaged in diabolical things.
My sister was young and very pretty, come let me tell you the story of my younger sister, Betty. She was 14 years my junior, she was born to another man by my mum…my mum had five children for three different men…that is our life for you and she died right after my sister, was born. I left the house when I turned 15 to work for an aunty in Lagos, so I didn't know much about my sister, Betty, she was a baby when I left and she was raised by our grandmother. Now, my grandma died three years ago that's how come my sister came to Lagos to live with me, (I lived in my aunty's boys quarters). As soon as she came, it was trouble, she was 21 years old at that time.
She began to see one 419 boy that lived in the estate.
Everyone knew who he was.
More so, he had the one –nine trade mark; he was always dressed in jersey shorts, t-shirt, socks and slides and always had his generator on even when there was NEPA. A lot of people had complained about the noise his generator made, they had reported to the chairman of the Estate, who was my aunty's husband, yet, nothing could be done because he insisted on running his gen and only put it off when he and the rest of the boys living with him go out.
Why would he keep his gen on, even when there's NEPA? Because they didn't want to lose the victims they were scamming on the internet that is why.
And speaking of victims, there was a strong rumour that this particular boy had a girlfriend that he loved so much and she was the one he used for money ritual. They said she went on a trip with him but never came back. They said he had taken her to a ritualist who used her…that is what we heard.
His name is Kinbobo, the very first time I saw him before my sister started going out with him, was at the super market in the estate, where he and his friends had bought an assortment of items, beer was plenty in their trolley, boxes of Indomie, Pringles, biscuits, all kinds of drinks and they were already drinking and eating the items in the trolley before they even paid for it.
Everyone in the estate know they are boys who aren't doing anything legitimate. They all had big cars but no obvious source of wealth. The duplex they rented in the estate is one of the most expensive houses.
Anyway, when my sister began to go out with this boy, she met him at the estate's supermarket. As soon as I knew she was seeing someone and I knew who it was, I warned her about him but she was lazy and wanted easy money and easy life.
She liked the bone straight wigs and the skimpy dresses he bought her, she loved the iPhone and false lashes she could wear and the fact that all she had to do was be there for sex.
She would come home with bags, shoes, sexy undies, makeup, plenty of bone straight wigs of different lengths.
What was I to do but warn her several times and did she hear me? Instead, she moved in with him and five other boys who occupied the flat they rented in the estate. My aunty wasn't even bothered because she told her once she began to see the boy, she should leave her house.
They all looked the same and dressed the same. I saw a few other girls in there too, must be the girlfriends of the others.
Anyway back to my sister, she was already living with the boy at age 22, the boy was about 27 years old, and both of them were too young as far as I am concerned. But both of them began to see money after sometime.
My sister went to Dubai, three times in one year!
My sister was literally a walking bank at one time, sending money to the rest of our siblings and family at home and the worst part was, no one was asking her the source of this sudden wealth, no one, except me.
When she came by in her big car one day, I said, I pray this would not be your coffin one day. I said it because, driving a big car, she and her so called husband hardly knew how to drive and they were a danger on Lagos roads!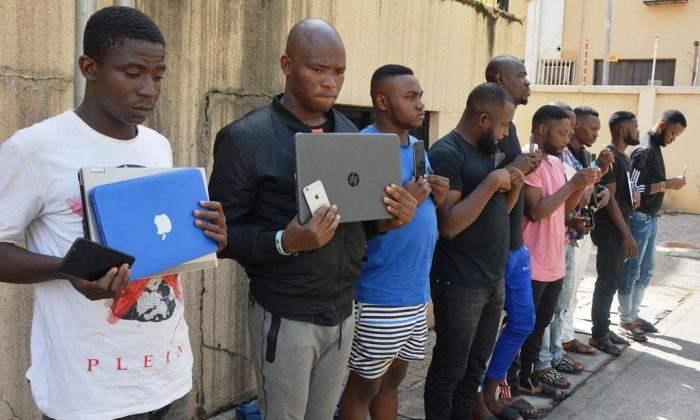 She would come with gifts, abada, drinks, all kinds of things, I refused to collect anything from her because I knew it was blood money. This is money they got from scamming foreigners, so I knew and refused to be a part of it.
Then, along the line, my sister came home to tell me she was getting married to the bobo. I said, "What is my business, you are old enough to decide your future."
They got married, though I attended their wedding, let it not be that they would accuse me of witchcraft, I was there. They spent money, my sister, they lavished money!
His friends were throwing naira notes like pure water paper
After the wedding, trouble started for my sister.
They moved to the new house Bobo had built. He had set it up as a surprise to my sister. That night, she ran out of their house, saying that every time she dozed off, a woman came crying into her ears. She said she woke her husband up and he said he couldn't hear anyone crying.
My sister said she didn't sleep that night…night of her wedding, o!
The second night, same thing, a woman kept crying and telling her between her cries that my sister would not enjoy money got from her blood.
This went on for three days, my sister kept changing rooms, thinking maybe this was just another thing.
Nothing changed, the fourth day, my sister ran out of the house in the middle of the night, shouting like a mad woman, "Leave me alone, leave me alone, I don't know you!"
That is how my sister left her husband's house!
She came to stay with me, talking none stop. Nonsense talk, you know? For two days without sleeping.
My aunty said we should take her to a native doctor in our village. So her husband came with his car and I joined them for the trip.
You know I told you earlier there was rumour that Bobo had done ritual money with his former girlfriend?
They said he used the girl's head to do yahoo, yahoo money ritual.
When we got to the village, the native doctor did his thing, incantations, rubbed my sister with some concoctions…he came back and faced bobo, he said to him, " What did you do with your first wife?"
Bobo said, "I don't know what you are talking about baba, this is my first wife?"
Baba said, you better tell me now, I am not a child, you know?
Bobo began to lie at first, he told the Baba that his girlfriend died in an armed robbery attack. He said though he took her to a native doctor for money ritual but they never got to their destination because on their way, armed robbers attacked them and kidnapped his girlfriend, they put her in the boot of the car. He said, as the robbers fled, police at the next checkpoint flagged them to stop but instead, they fired at police and police returned fire…in the midst of it, his girlfriend who was in the boot was hit several times…she bled to death in the boot.
Baba said, "you lie! Yes she died in the boot but you had killed her before the police came along. You were in the car when police began to shoot at you, you planned your girlfriend's death!
He then began to beg Baba help him cure my sister, saying he truly loved her…Baba couldn't do anything, my sister is still in at the psychiatric ward as we speak
I still don't fully understand why my sister has to suffer for something she didn't do? She didn't kill the girl, why is she the one running mad? Why is Bobo walking free?
(Series written and edited by Peju Akande and based on true story)