Something woke me up that night.
I'm usually not an early sleeper and that day was no exception. I went to bed a few minutes past 2am. I had cut and laid out the few materials I planned to start sewing the following day. I put my sewing things away because I hate clutter. So I was very tired by the time I had a shower and hit my bed.
Of course sleep came immediately.
Then something woke me up. It was s sound, sharp wheezing sound that zipped past my ear!
I didn't put on the light because I felt that maybe someone had entered my room or could be someone throw something through my window or maybe something fell…I sat up and looked around. I didn't see anything.
My body kept telling me to go back to bed but my mind was focused on finding what woke me, so I didn't go back to bed immediately.
What if thieves had come in, why would I allow them find me in bed and rape me after stealing from me?
So I got up and crept around.
I looked outside through my window, it was dead of night. No streetlight, just a few bulbs from people's houses on the street.
I checked my phone, it was 2.33am, meaning I hadn't even slept for long.
I tip toed around to be sure no one was lurking anywhere, because I was prepared to scream my lungs out. I live in a two bedroom flat alone; my sister, I didn't see anything o.
So I went back to bed, you know, I just laid there with my head on one arm, staring at the door. I was kind of waiting for the sound again, so I would be sure of what it was.
I was drifting off when I heard it again, this time, it came from my ceiling and something landed with a force so strong between my arm and my head, it pierced through the bed.
I sprang up immediately!
My first thought was, maybe a cat had got into the ceiling and was catching rats…though I didn't even hear any animal noise. So I flicked on the switch, I saw my ceiling had been perforated. One single hole and it kind of scattered dried paints on my head…my bedsheet is deep green, so the ceiling debris was visible.
I tried to brush off the debris and realized there was a hole just where my head and arm had been.
I was talking to myself, "Which kind juju be dis?"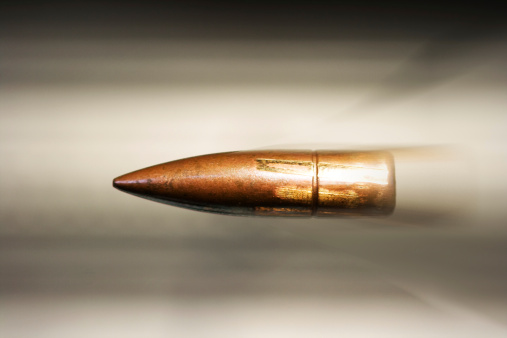 What was the thing that fell from the ceiling and missed my head by inches and is embedded in my mattress?
I pulled off my bedsheet, tore off some bits of the mattress because I saw that whatever had come from the ceiling dug a hole into my mattress.
My heart was thumping because even before eventually saw what it was…I knew what it was. Embedded in the matrasses I had just vacated was a single bullet! It was some three inches into my mattress!
I had never seen a bullet before then, in my life…of course I had seen lots in movies. But as soon as I pulled it out, I was shocked as to how heavy it was, no wonder it kills people so fast! How did a bullet pierce through my ceiling, the force propelled it into my mattress! I could have been killed!
I would have been dead and no one would even know what killed me!
That night, sleep was wiped clean off my eyes!
So what was the first sound I heard? A first bullet?
I searched my room, looking for holes around my room…I found one by the window but no bullet!
In the morning, I asked my neighbours if they heard any gun shots over the night, they said no.
Then I told them what happened, they said I should go to the police.
I said me, go to police, so they would start asking me who my accomplices are and where I hid the gun?
My theory, maybe stray bullet fired by the police or vigilante or even robbers…two came into my room…would you call that a coincidence or sign? I choose to call it a sign from God.
So I decided, Biko, I no dey go police, the God that saved me today will help me see 2022!
That is my short story, please tell people, God dey!
(Series written and edited by Peju Akande and based on true stories)