Who remembers Onyeka Onwenu and King Sunny Ade's hit single, "Wait for me" in the late 80s?
The chorus to the song goes:
"Having babies, no bi joke…
You go feed dem,
You go give dem chop
You go give dem love too…"
Every time I hear couples, who've had children, say two or even three kids, announce the arrival of a newborn to their family; my heart beats faster for them.
What are they looking for?
Some say, "We are looking for a boy…"
Or, "We want a girl…"
Nothing truly guarantees you having that choice sex except of course you get them via petri dish…as in artificial insemination…which again, doesn't fully guarantee the outcome of the baby's sex.
But let's just go with, "we want another child…"
Nothing wrong with that except, I mentally calculate their spend in the succeeding months…even for years ahead because like my friend says, "a child is a 25years investment."
The last time, two years back, I went buying baby formula for a young cousin who asked if I could find in my area, somehow she couldn't get that particular brand, Friscoream, I think, it cost N3,000 per tin which is 300gm…the baby eats it up in 9 days. Today the cost is much higher, it's between, N4000-5000 per tin, multiply cost of one tin by 9 days interval…every month! Let's put a conservative figure of N20k…on baby formula alone!
But ogi and custard are good supplements, sha!
Add diapers; babies poo a lot and you actually want then to, otherwise, they would be wriggling like worms in salt if they don't poo, they'll cry and be sick afterwards; so diapers, 28 in a pack, costs an average of N5, 500 per pack of 3kg, you'll be needing an average of 3 to 4 per month.
Do the math.
Multiply that 3 to 4 packs per month…it gives you a rough idea of how much to spend on diapers and if you say, diapers are too expensive, I'll try clothe nappies, nappy rash awaits your baby's bum…you'll be spending more money on that bum at the hospital, so weigh it in.
Babies don't need clothes or shoes…for the first two years or thereabout, these aren't must buys. so let's assume there's grandma to watch or a house help, so money for creche, conservatively at N50,000 per month is out.
Then of course, there would be other mouths to feed, after all, baby isn't the only human in the household.
What am I saying here?
Having babies, no bi joke!
Now, if you followed the news last week about Tuface reportedly getting a female banker pregnant and expecting his 8th child from the so called faceless banker; two things crossed your mind; one, Tuface is competing with Elon Musk, the richest man in the world…who at last count has 7 children…like Tuface, from different women, some birthing almost at the same time…like Tuface.
The second, Annie, Tuface's wife, will have his balls for this!
Butttt… thankfully, there is no pregnant banker; Tuface's manager, Efe Omoregbe has quenched the rumour of a pregnant banker. He described it as 'fake news' and urged well-meaning platforms and people to disregard it, Tuface himself has slammed trolls who insulted him over the new baby mama issues.
Aha, there you have it.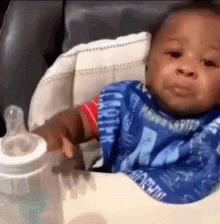 I never bothered about how Tuface would care for his "new baby" if there ever is one ; I believe even if he does have another baby through Annie, he won't be pinching pennies over diapers or baby formula …I hope he has enough gigs booked for years to come to keep the current 7 children in good schools.
So apart for cost of raising babies these days, I really didn't understand why people were slamming him.
If the 'banker' exists, she wasn't force, I hope?
If the 'banker' exists, she should've asked him to use a condom, abi?
If the 'banker' exists, she wanted fame and fortune and so should also take a portion of the blame. I mean, who's bothered about how many children Elon Musk has? The guy has announced that he wants to populate the world, he can have 50 and still not feel a dent in his reserve.
Why is it ok for him and not for Tuface?
Ok, so maybe Tuface is wayyyy too small to be compared with Elon Musk, never-the-less, having babies is serious matter; it goes beyond spreading of legs before and after; which is why I believe something needs to be said about the recklessness with which children are birthed, especially by those who have no means to care for them.